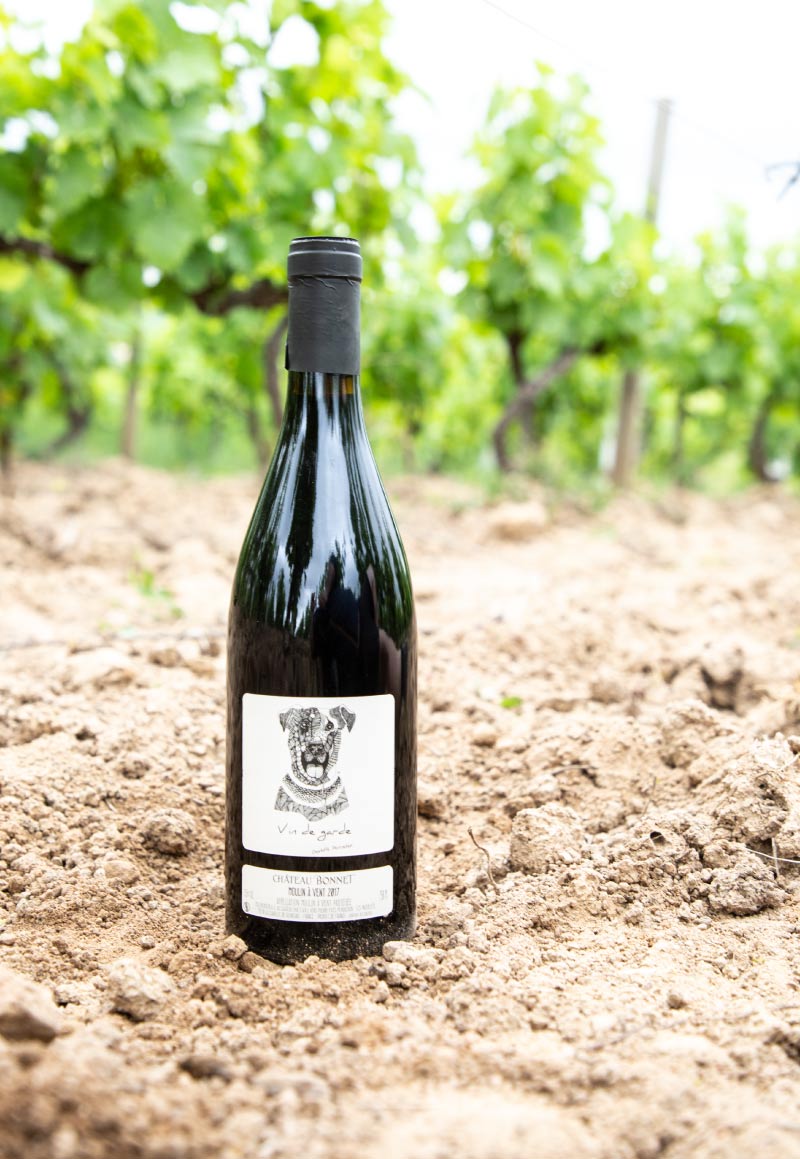 Moulin à Vent, Vin de Garde
Vineyard
Grape variety : Gamay
Type : Red
AOP : Moulin à Vent
Terroirs : Maisons neuves
Age of vines : 60 years old
Soils : old granite from piemonts
Pruning system: : Gobelet
Yield : 40 hL /ha
Culture : Terra Vitis, organic non certified
Soil-care : 3 4 gentle plowing
Harvest : Hand-picking
Winemaking
12-14 days in concret vat Desterming at 50 Natural alcoolic fermentation, controled temperature 28 C Punching of the cap at the begining of maceration then 1 pumping over per day Malolactic fermentation in oak barrels
Aging
12 months in oak barrel ( never new oak)
Bottling
Bottling during « fruits day » on the moon calendar Bottling in property.
?
Nesquik, our estate's guardian dog gives her face for this Vin de Garde (like "chien de garde")
Nose
black cherry, kirsch, spicy
Mouth
well balanced good tanins
Drink
now or in next 5 10 years A tasting at Château Bonnet ?
Our Domaine is open Monday to Saturday from 9 a.m. to 6 p.m.
Sundays and days-off by appointment only.
We prefer if you call us before your arrival to arrange a meeting time, we can be in the vineyard, on a tractor, in delivery ...
Château Bonnet
2, les Paquelets
71570 la Chapelle de Guinchay
03 85 36 70 41
Consumption of alcoholic beverages may cause health problems